Dr. Thomas completed his undergraduate studies at Southern Utah University, where he earned a Bachelor of Arts in Biology, with distinction. He went on to the University of Oklahoma School of Dentistry where he excelled in Pediatric Dentistry, receiving membership in the University's Pediatric Dental Honors Program and receiving the prestigious J. Dean Robertson award for excellence in Pediatric Dentistry.
After receiving his Doctor of Dental Surgery degree Dr. Thomas went on to complete his residency training in Pediatric Dentistry at Children's Mercy Hospital. Immediately after graduating from residency he was honored to accept a position as an attending Pediatric Dentist at Children's Mercy, where he now holds a position on the Medical Staff. Dr. Thomas is also a Diplomate of the American Board of Pediatric Dentistry.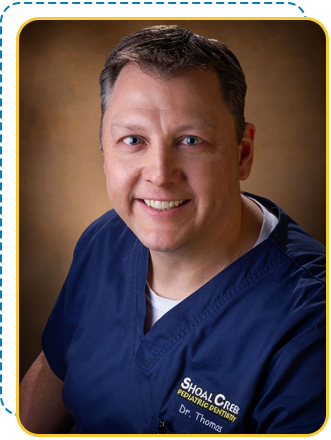 In order to increase his knowledge in Pediatric Dentistry Dr. Thomas maintains his membership in both the American Dental Association and the American Academy of Pediatric Dentistry. He and his staff maintain CPR Certification and in addition Dr. Thomas maintains his Pediatric Advanced Life Support Certification every two years as he and his staff are dedicated to providing your child with the best dental care possible in a safe and effective environment.
He and his wife currently live in Liberty with their two children Brayden and Madison. Dr. Thomas spends his free time golfing, watching OU football, and at the lake. His favorite part about being a Pediatric Dentist is his fun staff and getting to interact with so many amazing kids.